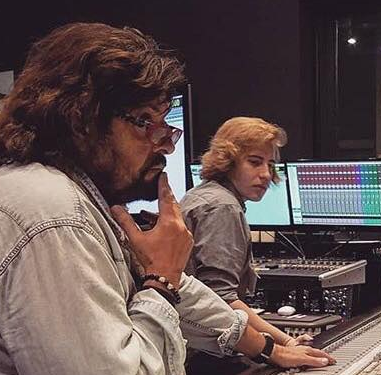 Wed, Oct 28, 20
What's in a name?
Classic Recording, Old School Recording, Real Recording
…these are just some of the terms used to describe ASSR's new online course,
The Fundamentals Of Recording & Music Production.
Other recording courses tend to be all about the latest plug-in or super duper interface, but this is different. It's focused on you, learning, getting end results, developing, refining or broadening your skills at recording and mixing music.
Getting in Gear
Equipment is important too, which is why one of two brand new videos created for the course is on Equipment Choices for 2020. Here you'll get a bird's eye view of what's hot and what's not from Alan Parsons' gifted young house engineer, Noah Bruskin.
The course goes on to guide you deeper into the maze of physical equipment: microphones, monitors, DAWs, consoles and controllers; learn what they do—button and parameter by button and parameter—and how, when and why to use them. Individual Tasks and Assignments then reinforce lessons learned in the videos.
Music Matters
But from the get-go
ASSR's Fundamentals Of Recording & Music Production
is focused on the music. At Orientation, you'll download a massive 62-track raw session file of
All Our Yesterdays
, a song that Alan Parsons wrote for the original ASSR video series featuring top session players like Simon Phillips, Nathan East, (Foo Fighter) Rami Jaffee, and guitar legend Tim Pierce. 
Just being able to jam along with this multitrack is a thrill but the course also puts you to work! In the MIDI lesson module you'll get to voice special MIDI tracks/versions of the drums, bass and keyboard pad. In the Vocal lesson module you (or a friend, if you're not quite brave enough to do it yourself) will get to replace the lead vocal.
And
All Our Yesterdays
isn't the only music file to download. In
Recording Keyboards
you're given the multitrack of a rare solo piano recording by ASSR co-author and ex Steve Hackett and Yes/ABWH keyboardist Julian Colbeck. The piece,
Noblesse Oblique
, was recorded at UCSC's Recital Hall on a 9ft Bosendorfer and was recorded using three sets of mics (a pair of AKG C414s, a pair of U87s and a pair of rather more modestly priced Audio Technica 4041s). Learn the differences between the mics and the different miking positions and eventually create your own mix.
In the
Recording A Choir
lesson module you're also invited to download the raw session file of the choir performance shown in the video in order to learn how to execute the MS (Mid/Side) process (using a mix of cardioid and figure 8 mics, the latter's track copied and phase reversed) to create MS's magical stereo spread.
Finally, in the
Approaches To Live Recording
lesson module, Alan Parsons makes available a full 'Live Project' concert recording multitrack for detailed study and mixing.
Take Your Time (Do it Right)
The
pièce de résistance
is that this is a fully online course you can do in your own time at your own speed. If you're student, or a retiree, maybe you can spend a few hours a day and complete the course in a few weeks. But if you have a full time job or are in a full time band, a few hours a week could be more appropriate and you can complete it over three or six months.
This course is about developing your recording skills. You'll learn an incredible amount, whether you're a novice or a more experienced musician looking for a refresher to help you get back into recording. Whatever your situation, take your time. It's not a race!
Breaking News!
 Course cost is $395 and if that's a bit of a struggle in these
challenging times
we're just implemented a new Payment Plan, allowing you to spread the payments across four months with no additional fees or charges.  

If you love music as well as machines, sign up now for an experience that'll only take up a few hours of your time but will give you back a lifetime of making better music. 
 
*If you purchased ANY version of the original ASSR video series we will discount this course by that amount. 100%. Before you purchase simply contact info@artandscienceofsound.com stating what you have and where and when you got it and we'll send you the appropriate discount coupon.