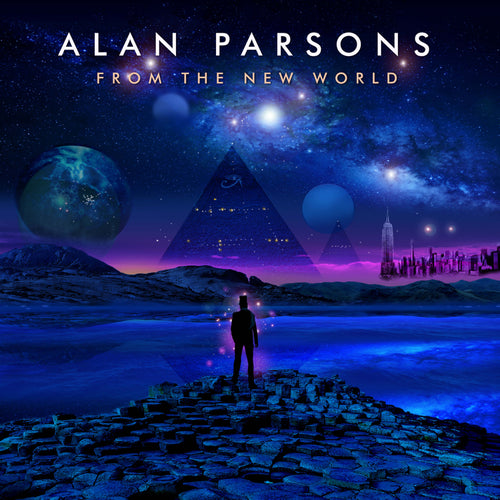 Thu, Jun 23, 22
ALAN PARSONS ANNOUNCES NEW STUDIO ALBUM 'FROM THE NEW WORLD' TO BE RELEASED ON JULY 15, 2022 - SECOND SINGLE, 'I WON'T BE LED ASTRAY' FEATURING VOCALIST DAVID PACK AND GUITARIST JOE BONAMASSA OUT NOW!
Frontiers Music srl is proud to announce the release of the upcoming new studio album, From The New World, by the legendary Alan Parsons on July 15, 2022. Fans can get another preview of the album with the release of a second single and music video "I Won't Be Led Astray" featuring vocalist David Pack, formerly of Ambrosia, and guitar virtuoso Joe Bonamassa. Watch the video HERE: 

The Grammy Award winning musical icon released his previous studio album The Secret back in April of 2019. From The New World continues with the classic sound Parsons has become known for during his impressive 50+ year career by fusing progressive, symphonic, and classic rock elements together throughout this stunning album. Besides David Pack and Joe Bonamassa, guest appearances include Tommy Shaw of STYX, Gospel artist Tabitha Fair, and American Idol alumni James Durbin, all of whom blend seamlessly with Alan and his incredible band, who all worked on the album. Other featured APLP vocalists are long time lead singer P.J. Olsson, Todd Cooper and Dan Tracey.

Pre-order/save "From The New World" on CD, CD/DVD, Color Vinyl, Collector's Box Set, & Digital formats HERE: https://orcd.co/parsons

*CD/DVD includes CD + DVD Audio (5.1 Audio Mix of new album)

*LPs available as Limited Edition Crystal color vinyl and Limited Edition Yellow color vinyl

*Collector's Box Set includes CD+DVD (housed in a digipak), "Live in Madrid" Digifile, T-shirt (size L), LP (180g, gatefold, Blue Transparent), poster & numbered lithograph.

Alan Parsons began his career at the age of 19 as an assistant engineer at the legendary Abbey Road studios in London working with the Beatles on their albums Let It Be and Abbey Road. Those who recently saw Peter Jackson's Get Back series got to view vintage footage of Parsons working alongside the Fab Four. Parsons would soon go on to bring his innovative style of engineering to classic albums by Paul McCartney, the Hollies, and Pink Floyd, including their 1973 masterpiece The Dark Side of the Moon. 
Parsons would quickly move into the role of producer, winning countless gold and platinum awards with such artists as Pilot, Cockney Rebel, Ambrosia and Al Stewart. Simultaneously, he formed the world-renowned Alan Parsons Project with songwriting partner/vocalist Eric Woolfson, producing a myriad of hits that included Eye in the Sky, Don't Answer Me, Time and Games People Play. The Parsons/Woolfson duo never toured, but rather concentrated their efforts in the studio.  But after ten studio albums with The Project, Parsons began recording albums under his own name and started to play live for the first time to the delight of his millions of fans around the world. 
In addition to winning a Grammy for the 35th Anniversary edition of Eye In the Sky, Parsons released his fifth solo album, The Secret in 2019. It was his first studio recording in 15 years, and it culminated in a series of worldwide tours.
During 2019, two concerts were filmed by the producing and directing team of Trinity Houston and David Minasian of IM3 Global Entertainment. The NeverEnding Show: Live in the Netherlands was released in late 2021 and One Note Symphony: Live in Tel Aviv featuring the Israel Philharmonic Orchestra in early 2022 by Frontiers Records. The Houston/Minasian duo are also responsible for directing and producing the new I Won't Be Led Astray music video. Minasian also serves as one of the song's co-writers along with Parsons and keyboardist Kim Bullard who is currently on tour with Elton John.
You can order Live In The Netherlands HERE: https://orcd.co/parsonslive
You can order Live In Tel Aviv HERE: https://orcd.co/parsonstelaviv
And you can get both HERE: AlanParsons.com
Parsons was recently honored with the prestigious OBE (Order Of The British Empire) award from the Queen of England for his contributions to the arts. After receiving the award from Prince William at Windsor Castle, Parsons had expected to embark on a European tour at the end of this month with his band, but was forced to cancel on orders of his doctors after a serious spinal issue suddenly flared up. Surgery was performed earlier this week and was successful! Alan hopes to be back on the road as soon as possible and we all continue to wish him the best during his recovery.
From The New World album tracklist:

1. Fare Thee Well
2. The Secret
3. Uroboros (featuring Tommy Shaw of STYX)
4. Don't Fade Now
5. Give 'Em My Love (featuring James Durbin, Joe Bonamassa)
6. Obstacles
7. I Won't Be Led Astray (featuring David Pack, Joe Bonamassa)
8. You Are The Light
9. Halo
10. Goin' Home
11. Be My Baby (featuring Tabitha Fair)

LINE-UP:
Lead Vocals - Alan Parsons, Tommy Shaw, David Pack, James Durbin, P.J. Olsson, Todd Cooper, Dan Tracey, Mark Mikel, Tabitha Fair
Backing Vocals - Alan Parsons, Tommy Shaw, P.J. Olsson, Todd Cooper, Dan Tracey, Doug Powell, Mark Mikel, Chris Shutters, Scott Hunt
Guitars - Alan Parsons, Jeff Kollman, Dan Tracey, Doug Powell, Jeff Marshall, James Durbin, Tim Pierce
Bass - Guy Erez
Drums - Danny Thompson
Keyboards - Tom Brooks, Doug Powell, Matt McCarrin, Kim Bullard
Sax - Todd Cooper
Cello on "I Won't Be Led Astray" - Mika Larson
Guitar Solos on "Give 'Em My Love" and "I Won't Be Led Astray" - Joe Bonamassa

Social Media:
https://alanparsons.com/
https://www.facebook.com/alanparsons
https://www.instagram.com/alanparsonsmusic/
https://twitter.com/alanparsons